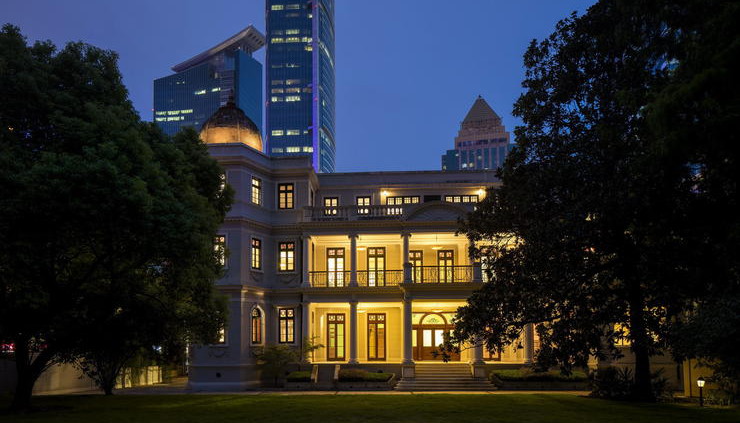 Opened last October, Prada Rong Zhai is a grand and lasting manifestation of Prada's commitment to Chinese history and culture and the latest of the brand's extraordinary architectural explorations. Originally owned by Yung Tsonga-King, the villa is one of Shanghai's finest Western-style villas. Yung Tsoon King (1873-1938) was a self-made Chinese entrepreneur who had a background in Confucianism, and the classics of economy and history. To elevate his family, he decided to go into the Bank sector, and a few years later, in 1896, he established his first joint venture. He was extremely successful and soon became very wealthy.  The house where he used to live, Rong Zhai, is now a symbol of prosperity, which is very positive in China.
PRADA AND ARCHITECTURE
Prada is much more than just a fashion brand. Indeed, the company has always been inspired by all forms of art and has often linked them together to create unique pieces of art. Architecture, for instance, is a way for Prada to express its creativity and innovation, and the parallels and contrasts between these two forms of design have been central to Prada for over a century. For years and years, Prada has expanded its love for architecture, by creating many "Epicenters" in the world.  In New York, Tokyo, Los Angeles, Prada's influence has expanded from fashion to culture and architecture.  Prada Rong Zhai is the latest investment from the brand to show its passion for many kinds of art.
PRADA AND CHINA
China has always held a valued place for Prada. It was therefore obvious for the brand to open another amazing building in China. The Rong Zhai building, with its history and its commitment to the Chinese culture, was a real evidence for the brand. To revive it, attention to details was key and the collaboration between Italian and Chinese experts results in a truly unique venue where east meets west. The goal was to create a place where art is put on display. To achieve this, the Mansion's subtleties were preserved, and bling decoration avoided, making this House a real art-piece.
THE PRADA RONG ZHAI COLLECTION
The Prada creations that were displayed at the exhibition mixed Prada's bold designs with Chinese fashion. For example, visitors could observe Prada "Qipao" dresses, which originate from 1920's Shanghai and represent typical examples of Chinese fashion; as well as Chinese patterns and symbols such as rabbits which represent the moon. However, there were also more modern pieces, adding to the spirit of past and present which floats at the Manor.  Unique accessories could also be witnessed such as bags where the name of the venue was written, while others bore patterns inspired from the Chinese culture.
To conclude, the opening of Prada Rong Zhai is a symbol of Prada's commitment to Chinese culture and history. Through this exhibition, Prada affirms once again its passion for all kinds of art by linking Fashion and Architecture in a spectacular manner, paving the way for Shanghai to write the rest of the Mansion's story.
Dewi DE NORAY – Fiona GUAS – Carole GUIRGUIS – Christopher LOIZANCE
#DoubleDegree #efap #essca