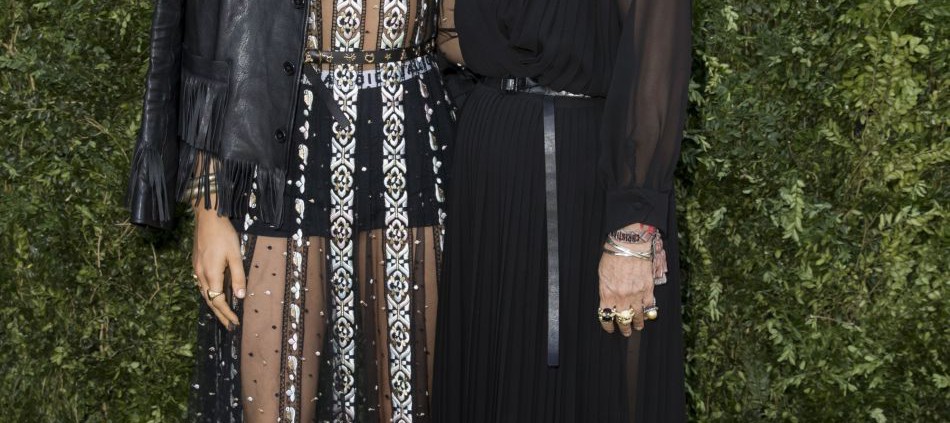 Christian Dior – Designer of Dreams
Christian Dior, genius of our times « whose magical name is made of God [Dieu] and gold [or] » once said his friend Jean Cocteau, imposed his vision of fashion, which relied on a triumphal femininity. He reinvented the woman's image, using her core nature and her sensual curves.
In 2016, sounding as a consecration for Dior, Maria Grazia Chiuri was named Creative Director of the women's collections. The woman is not only in the center of the creations, she even dictates her feminist style. Indeed, as the first female creative director of Dior, she made a strong move writing « We should all be feminists » on her clothes, quoting Nigerian writer Chimamanda Ngozi Adichie. Born under the Aquarius sign, just like Christian Dior, she symbolizes the characteristic open-mindedness of the house, which aims is to sublimate women.
Christian Dior was born in Granville in 1905. In 1919, because of his faith in astrology, he consulted a fortune-teller who predicted « You will find yourself penniless, but women will benefit you because it is thanks to them that you will succeed. You will get huge profits from this and you will have to travel a lot ». Highly superstitious, Christian Dior wanted to believe in his wonderful fate. He studied at Sciences Po and went through many jobs, working in an art gallery, then as a fashion illustrator and as a designer for Robert Piguet and Lucien Lelong. It was only in 1946 that he decided to create his own company.
On February 12th, 1947 his first collection shocked the world of Fashion: it was the New Look revolution. He changed the image of women and erased the masculine lines of the war years.
A visionary of the fashion industry, he conceived an idea in which women must be wearing Dior from head-to-toe, from clothes to fragrance. It is in this objective that the company later extended its line to cosmetics in 1969 and high jewelry in 1998.
«Women must have instinctively understood that I was dreaming of making them not only prettier but also happier. Their favor was my reward» said Christian Dior. Respectful of the founder's ambition, women's valorization has been preserved through his many successors such as Yves Saint Laurent, Marc Bohan, Gianfranco Ferré, John Galliano, Raf Simons and nowadays Maria Grazia Chiuri.
In 1961, Bohan created his 'Slim look' collection, with body-sculpting pieces. Ferré later recalled the Baroque when presenting his 'Ascot-Cecil Beaton' collection. Suzy Menkes noticed his talent in producing «something always clear, fluid, allowing the woman to leave her trace behind her». As for Raf Simons, he designed a line where the flower-woman and the Dior curves transformed into architectural silhouettes, suggesting a free body. The famous "tailleur Bar" became a tuxedo.
Women heavily contributed to the influence of Dior through the years. They belonged to the worlds of aristocracy, music, cinema or literature and were international figures of elegance.
There was Lady Diana Spencer, who gave her name to the famous Lady Dior, previously known as the Chouchou bag. Grace Kelly then had many of her dresses designed by Marc Bohan. Not to forget Jackie Kennedy, who wore an iconic pink strapless dress when she welcomed André Malraux, then Minister of Foreign Cultural Affairs, for a dinner over at the White House in 1962. Among these women, without whom Dior could not be what it is, we also find celebrities such as the dancer Josephine Baker, close friends of Christian Dior, the actress Ava Gardner or the singer Maria Callas. More recently, Rihanna joined the select community of Dior muses, stating: « I think, to be acknowledged by Dior is just, it means a lot as a woman to feel beautiful, and elegant, and timeless ».
It is with the support of these ambassadors that we understand the Maison Dior is looking to create beyond the clothes, and to build a strong lifestyle for talented and inspiring women because, as Christian Dior used to say, «Whatever you do, do it with passion. Live passionately».
The couture company is now celebrating its 70th anniversary, highlighted by the Christian Dior : Couturier du Rêve successful exhibition at the Musée des Arts Décoratifs, from July 5th 2017 to January 7th 2018.
Written by Veronique LOPES, Pierre MAILLET, Pauline NORMAND and Virginie PORTALI
#efapmbaluxe #decodingluxury