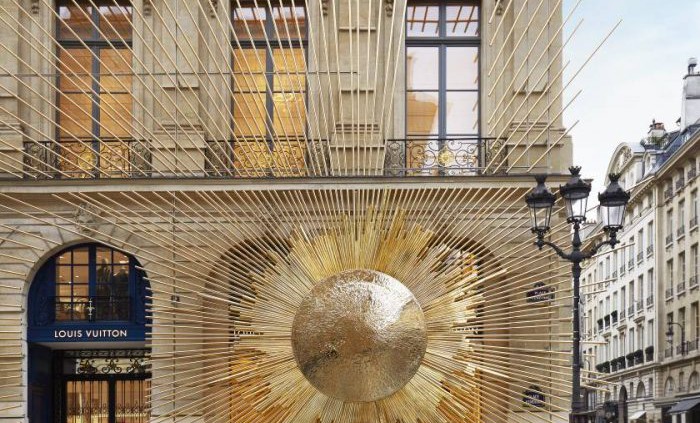 « Louis XIV voulait un lieu grandiose pour incarner le pouvoir absolu au cœur de Paris. »
Louis XIV (LE ROI SOLEIL), makes a strong comeback at Place Vendôme in a whole different form with Louis Vuitton. The Place Vendôme, royal place surrounded by French jewelers and international symbols of luxury, has recently witnessed the arrival of the Maison Louis Vuitton new flagship store provided with one of the most sumptuous facades to highlight its glory and standing as grand as the Sun. Louis Vuitton is the ultimate gem of the Place Vendôme.
With this huge flagship, Louis Vuitton wanted to combine royalty and modernity of the 21st century. Mission accomplished by the famous architect Peter Marino who took care of the interior design of the store by joining two private mansions, with one goal in mind: make the House the heart of modern luxury. To do so, he created a subtle mix between the 18th century charm and contemporary artworks, that we can find over the five floors of the boutique.
This store gathers every sector of expertise Louis Vuitton masters: from leather goods to high jewelry, and from ready-to-wear to perfumery. The brand, which owns a know-how in numerous fields, is multifaceted, such a diamond, shining even more on the Place Vendôme. But the House does not stop there. Indeed, some unique pieces, such as The Library Trunk especially created by Gaston Louis Vuitton for Ernest Hemingway, is also being displayed. This space named « Maison Louis Vuitton Vendôme » is also home to two ateliers: the first one is dedicated to high jewelry, whereas the other one will be exclusively used for the fittings of the very important clients and prestigious VIP friends of the House. A secret VIP apartment is even hidden on the second floor of the boutique.
It is then important to know that this place was not only intended to shop. The House Louis Vuitton wanted to share its passion for dreaming and traveling over time to its clients, in a very symbolic location, that offers a return to the roots of the brand and to French nobility.
Besides the grandiosity of this location, this is also a real tribute to Louis Vuitton himself, whom you can find the portrait on the ground floor of the boutique. In 1854, Louis Vuitton was opening his very first business not far from the famous Place, this boutique is therefore a wink to the heritage he left behind him.
This last boutique is an actual master stroke from one of the greatest in its sector, but we all know that the House will not stop there, and its success is limitless.
We can ask ourselves what will be the next move for Louis Vuitton to show its worldwide domination and brightness in the luxury sector?
#efapmbaluxe #decodingLuxury #Vendome #LouisVuitton #TheSunKing #FrenchLuxury
Louise AMSELLEM – Inès ARROUGÉ – Morgan DAHMANI – Coralie DELAMAISON