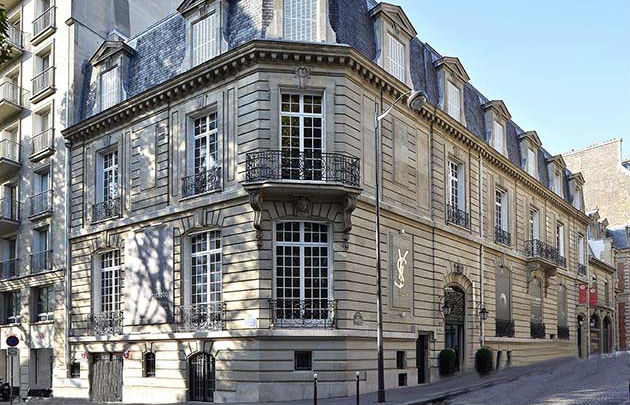 Unlike​ ​other​ ​current​ ​Luxury​ ​brands​ ​exhibitions​ ​like​ ​Dior​ ​or​ ​Hermès,​ ​Yves​ ​Saint​ ​Laurent​ ​has its​ ​own​ ​museum.​ ​Located​ ​in​ ​the​ ​heart​ ​of​ ​the​ ​Maison YSL,​ ​where "the​ ​magic​ ​happened".​ ​Indeed,​ ​the​ ​museum​ ​is​ ​located​ ​in​ ​a​ ​19th​ ​century​ ​house,​ ​5​ ​Avenue Marceau,​ 75008 Paris ​where​ ​Mr. Yves​ ​Saint​ ​Laurent​ ​used​ ​to​ ​have​ ​his​ ​workshops​ ​until​ ​he​ ​decided​ ​to​ ​stop​ ​his career​ ​in​ ​2002,​ ​leading​ ​to​ ​the​ ​shutdown​ ​of​ ​the​ ​Haute​ ​Couture​ ​Maison.​ ​As​ ​for​ ​a​ ​fact,​ ​Pierre Bergé,​ ​founder​ ​of​ ​the​ ​museum​ ​and​ ​lifetime​ ​companion​ ​of​ ​YSL,​ ​preserved​ ​the​ ​office​ ​exactly as​ ​it​ ​was​ ​when​ ​YSL​ ​was​ ​alive.​ ​You​ ​can​ ​still​ ​see​ ​his​ ​glasses​ ​on​ ​the​ ​desk​ ​and​ ​his​ ​dog​ ​Moujik's bowl​ ​on​ ​the​ ​floor.
"We​ ​are​ ​full​ ​of​ ​memories​ ​in​ ​the​ ​form​ ​of​ ​5000​ ​clothes​ ​and​ ​100​ ​000​ ​sketches. ​ ​We​ ​want​ ​to transform​ ​those​ ​memories​ ​into​ ​a​ ​project", ​ ​said​ ​the​ ​companion​ ​of​ ​YSL​ ​in a press release, ​ ​in​ ​June​ ​2017.
"In​ ​a​ ​100​ ​years, ​ ​I'd​ ​like​ ​my​ ​dresses​ ​and​ ​sketches​ ​to​ ​be​ ​studied" ​ ​YSL​ ​(1992). Yves​ ​Saint​ ​Laurent's​ ​wish​ ​came​ ​true​ ​last​ ​October​ ​when​ ​the​ ​museum​ ​opened​ ​its​ ​doors​ ​to​ ​the public. Entering​ ​the​ ​museum​ ​is​ ​like​ ​stepping​ ​into​ ​YSL's​ ​brain. ​ ​You​ ​can​ ​walk​ ​in​ ​his​ ​footsteps​ ​and discover​ ​all​ ​his​ ​main​ ​inspirations​ ​to​ ​create​ ​his​ ​collections.​ ​YSL​ ​said​ ​​"My​ ​most​ ​beautiful travels,​ ​I​ ​did​ ​them​ ​through​ ​books,​ ​on​ ​my​ ​sofa,​ ​in​ ​my​ ​living​ ​room"​.
Pierre​ ​Bergé​ ​used​ ​to​ ​say​ ​​ "Fashion​ ​is​ ​not​ ​an​ ​art,​ ​but​ ​you​ ​need​ ​an​ ​artist​ ​to​ ​create​ ​it"​. From​ ​Russia​ ​to​ ​Africa, ​ ​YSL's​ ​collections​ ​are​ ​rich​ ​in​ ​colors,​ ​exotic shapes​ ​and​ ​original volumes.​ ​His goal​ ​was​ ​always​ ​to​ ​create​ ​dreams​ ​through​ ​each​ ​model.​ ​Travels,​ ​history,​ ​arts…​ ​Yves​ ​Saint Laurent​ ​was​ ​never​ ​short​ ​on​ ​ideas​ ​to​ ​make​ ​each​ ​collection​ ​even​ ​more​ ​exceptional​ ​than​ ​the previous​ ​one.
Even​ ​if​ ​most​ ​of​ ​YSL's​ ​work​ ​was​ ​done​ ​from​ ​his​ ​Parisian​ ​studio, ​ ​his​ ​heart​ ​remains​ ​in​ ​the Majorelle​ ​gardens,​ ​in​ ​Marrakech.​ ​In​ ​fact,​ ​it​ ​only​ ​makes​ ​sense​ ​that​ ​Pierre​ ​Bergé​ ​chose​ ​to open​ ​the​ ​second​ ​museum​ ​in​ ​the​ ​city​ ​that​ ​brought​ ​YSL​ ​so​ ​much​ ​happiness​ ​and​ ​creativity.  Much​ ​bigger​ ​than​ ​the​ ​Parisian​ ​museum,​ ​the​ ​one​ ​in​ ​Marrakech​ ​also​ ​contains​ ​a​ ​5000-book-library and​ ​a​ ​space​ ​for​ ​temporary​ ​exhibitions​ ​exclusively​ ​dedicated​ ​to​ ​Majorelle's​ ​work​ ​that​ ​inspired YSL​ ​a​ ​lot.​ ​Saint-Laurent​ ​used​ ​to​ ​spend​ ​two​ ​weeks​ ​in​ ​Marrakech​ ​in​ ​June​ ​and​ ​December,​ ​each year,​ ​as​ ​he​ ​said​ ​it​ ​was​ ​the​ ​best​ ​place​ ​for​ ​him​ ​to​ ​create​ ​his​ ​new​ ​collection.​ ​YSL​ ​and​ ​Pierre Bergé's​ ​Moroccan​ ​house​ ​was​ ​their​ ​safe​ ​haven.​ ​A​ ​place​ ​to​ ​escape​ ​and​ ​create​ ​in​ ​an​ ​exotic environment​ ​far​ ​from​ ​the​ ​Parisian​ ​craziness​ ​between​ ​two​ ​collections.
"A​ ​living​ ​place​ ​about​ ​fashion​ ​and​ ​art",​ ​this​ ​is​ ​what​ ​Pierre​ ​Bergé​ ​wanted​ ​to​ ​create​ ​with​ ​the​ ​two museums,​ ​showing all the painters that​ ​inspired​ ​YSL​ ​for​ ​his​ ​collections.​ ​Indeed, YSL​ ​was​ ​the​ ​first​ ​designer​ ​to​ ​link​ ​​art​ ​to​ ​​fashion​ ​with​ ​his​ ​famous​ ​dress​ ​which​ ​draws from​ ​Mondrian's​ ​painting​ ​"Composition​ ​en​ ​rouge,​ ​jaune,​ ​bleu​ ​et​ ​noir".​ ​Thereafter,​ ​YSL used​ ​the​ ​works​ ​of​ ​Henri​ ​Matisse,​ ​Claude​ ​Monet​ ​or​ ​even​ ​Georges​ ​Braque…​ ​All​ ​the​ ​forms,​ ​the colors​ ​and​ ​the​ ​textures​ ​benefitted​ ​the​ ​designer​ ​to​ ​create​ ​his​ ​unique​ ​pieces​ ​of​ ​fashion.
From​ ​next​ ​year, ​ ​the​ ​two​ ​museums​ ​will​ ​welcome​ ​temporary​ ​exhibitions. ​ ​The​ ​first​ ​one​ ​in​ ​Paris will​ ​be​ ​an​ ​exhibition​ ​on​ ​art​ ​and​ ​fashion​ ​as​ ​YSL​ ​wanted​ ​to​ ​offer…
Camille Dubré, Clémence Toubel, Léa Bourdillat, Elise Anastasio, and Coline Gauci
#efapmbaluxe #decodingluxury