Looking for a new pair of shoes to match your latest outfit or just looking for that "one extra pair" you really REALLY need to complete your collection?…  Well, Level, the shoe district with 15,000 options might be just what you need if you live in Dubai or just happen to be visiting for the holidays.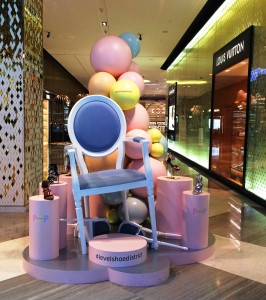 Part of the Chalhoub Group, this 96,000 square-foot store inaugurated in 2012 is a shoe paradise where you can find over 250 brands and 40 luxury boutiques in one single location. But much more than a convenient one-stop store, Level Shoe District aims to offer a "unique retail concept and destination".  So what is it that differentiates Level from other shoe stores?
SERVICES are the name of the game it seems. While the store offers a wide range of traditional services and amenities – ranging from the inevitable café (Vogue), to the in-store stylists and concierge assistance, they also propose more unique services such as their own in-house cobbler and sole treatment lounge that might just make the difference.
If you ask my husband, the cobbler would be the seller. Nowadays, talented artisans with real savoir-faire are so hard to find that one would go miles out of their way to find one that really knows "his business", and more importantly, that won't ruin your favourite pair of shoes. In Level, the cobbler – a master purveyor of traditional shoemaking – creates not only ready to wear and bespoke footwear for gentlemen, but can also cater to your oldies but goodies and bring them back to life with special treatments including mirror shine, patina, full leather re-soling and heel replacement for both men and women.
Now, if you ask ME, I just can't wait to indulge in one of the 3 dedicated Margaret Dabbs treatment lounges. A fully trained Podiatrist, Margareth Dabbs set up a series of Foot Clinics starting in 1998 in London, and pioneered the now renowned "Medical Pedicure". Since 2013, she has taken her expertise and brought her professional podiatrists and nail technicians to Dubai to offer first class treatments. Fusing health and beauty and retailing her award winning product range, she provides outstanding care that visibly transforms the feet.
Level is not only a shoe store but a dream come true, pampering you from tip to toes when it comes to feet. What has brought them to the next level is certainly the quality of the overall experience, catering needs with savoir-faire and attention to details.
Personally, while in the store, my feet were barely touching the ground!