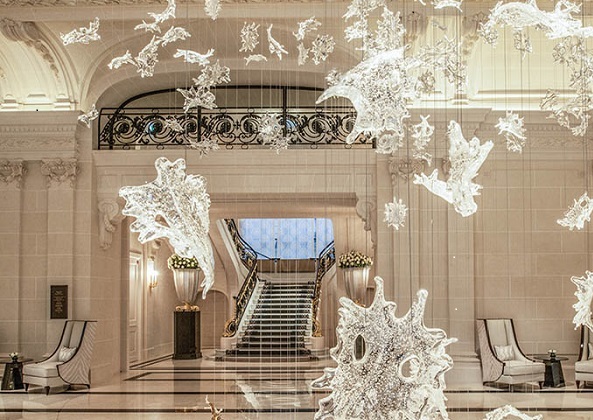 The Peninsula hotel group, that started operating in Honk Kong 1928, has become, through time, a symbol of luxury, prestige, outstanding service and China´s first luxury hospitality brand. My very first experience in this group was in Beijing, I used to live there when I was a teenager and having meals in all those amazing hotels was definitely part of our weekend´s routine. The truth is that I wasn´t really able to appreciate it. The hotel´s standards were getting higher and higher in China, and all that seemed pretty normal to me and to all my friends. It was part of our lives, full stop.
Many years after, in Paris, I decided to spend a night at The Peninsula. It opened in 2014, so I had not seen it yet and this is why I chose it among so many other renowned hotels. And yet, I did not regret it!
I always thought that Chinese were quite megalomaniac, and when it comes to hotels they surely know how to impress their guests. As you walk by the famous Avenue Kléber, it is impossible not to notice the majestic pair of guardian lions at the entry of the hotel, symbolizing the "Middle Kingdom's magnificence. I immediately felt projected into the entry of the Forbidden City!
Moreover, as you enter the hotel you can almost feel the acclaimed Chinese delicacy caressing your skin: the crystal leaves hanging down the lobby are just as exquisite as the ginkgo leaves that embellish Beijing´ streets…
But when it comes to the accommodations, tradition is definitely replaced by modernity.  I stayed at the Grand Premier Room, an elegant 50 square meters room with a "huge" walk-in closet, an amazing marble bathtub, and girls: a nail dryer! How cool is that? Not to mention that all the frigobar drinks and a bottle of wine were offered by the hotel. Now, that is a way of pampering your client, isn´t it?
This was by far one of the best experiences I had in a hotel. The Peninsula surely understands what luxury is. Not only they provide us with this stunning atmosphere, but they also grant an amazing consumer´s experience.
The WOW effect is at the 19, Avenue Kléber and I highly recommend it!!!