The palace was built for Marie de Medicis, mother of King Louis XIII, in place of a former private mansion owned by François, Duke of Luxembourg, hence its name. Marie de Medici bought the structure and its relatively large area in 1612. The reconstruction of the palace hotel was by the architect Salomon de Brosse
The furniture of the palace are a part of his main artistic project, and left nothing of the original interior that adorned the hotel, she was responsible for designing all the furniture. The series of paintings commissioned and decorated around the palace, now scattered in various museums. The most famous, a series of twenty triumphant screens were commissioned from the painter Peter Paul Rubens.
Typically seen in French palaces, the wings of the building would be surrounding a main court, with the chief living quarters and chapel facing a garden.
The Luxembourg Palace and garden is a prominent place of interest and beauty in Paris. The garden is the largest public park in all of Paris. The park was fashioned for Marie de Médicis and was remodeled by royalty whom, after her death, also inhabited the palace surrounding the garden. The garden has exquisite's fountains designed by the same architect who modelled the palace, Salomon de Brosse. Also within the garden there are orchards of pear and apple trees. Children are also warming welcomed with basins of water for toy sail boats in addition to marionette shows. Chess players and tennis players alike have places to practice their games at the Luxembourg garden. The 25hectare compilation of manicured lawns, blossoming trees, and flower gardens make the Luxembourg garden a fashionable oasis for meetings of students, lovers and friends.
The Palais du Luxembourg embodies stylistic elements of Baroque architectural style through its explorations of form, light and shadow. In addition to these aspects, an external facade often characterized by a dramatic central projection can also be seen very prominently in the Palais.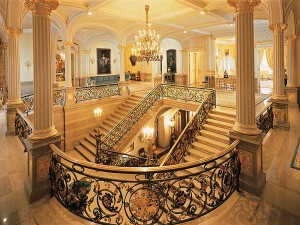 #parisarchitecture #palaisdeluxembourg #beautyandluxury