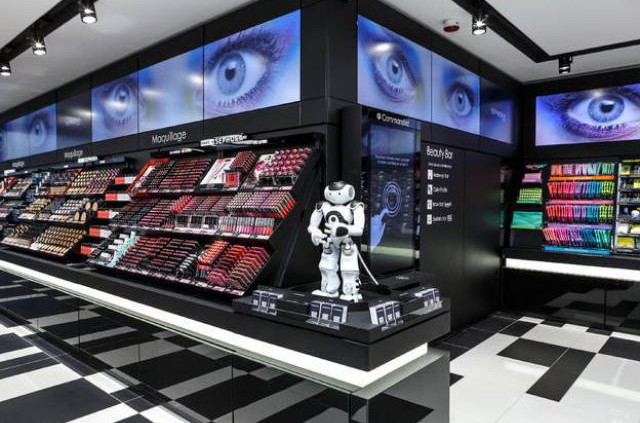 We were very excited to go to the new Sephora store opened last October 21, a connected store called Sephora Flash at 66 Rue de Rivoli in Paris. At first glance, it seemed like we were about to experience something quite amazing – the next generation of stores.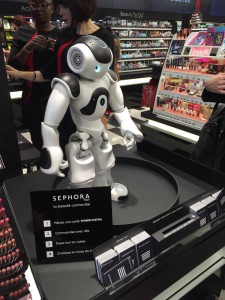 When you enter in this suitable-size shop and move on to this cutie robot Nao the thrill begins, although he is really just there to deliver a single introduction message (no quite very interactive) and to encourage you to pick up a NFC cards enabling you to experience something hopefully truly unique. The idea is to take this precious card and go shopping into the shop. Indeed, you can find lots of connected touchscreens providing information related to physical and non-physical products. You just have to place your card near one of those screens to add and save the product in the shopping-card-basket. Once your shopping is complete, you can pay on the spot, recover available items and receive the other non-available ones at home.
Besides the trendy robot and this NFC card, you also can experiment an automatic sampler with your sales slip at the end, freely recharge your smartphone while enjoying your shopping experience and take selfies (then sent by email) via a special mirror.
So far… so good you may say… But, here is the thing… Actually only a few references are available in the shop, so you can't test all the products you want. Most of the time, you can't leave with all the articles you selected since there is not much stock. So, you have to come back for next-day delivery or wait for home delivery. What a disappointment… why not stay at home and go shopping online in this case? So even though this store is a step up in digital for Sephora, we felt a bit frustrated and wondered if the brand was more surfing along on the digital trendy image wave than providing a real connected store?
In our MBA specialized in Luxury at the EFAP school, we thought of four ideas/suggestions to take the experience a step further. Here are some of them:
The first thing we were thinking about is the NFC card in itself. Why not use the "Sephora card" instead of this disposable one? The benefit would be double for Sephora: they could reach a wider clientele while expanding database and develop a more personalized experience with the customer at the same time. That way the customer could also benefit from a real cross-channel experience while connecting on the website next time they do an online order. All the tested products could be saved on the card and the customer could easily find them on the website and even be proposed special targeted discounts…
Regarding this last point, we also thought that the use of Beacon Technology would enable Sephora to precisely locate the user in a store and send him customized notifications of products on sale around him he may be interested of. The technology could also enable payment at point of sale in order to pay without opening your wallet or pulling out your credit card.
Moreover, for even more customization, Sephora could suggest to its clients to make their wish list (for Christmas or birthday) via the connected touchscreens before sharing it with some close friends and family members via social networks or email. In addition to providing a service… they would be able to gather more emails…
And let's go wild… What about the next step… What about enabling people to create their own make-up in the store. Yes, tomorrow is already here thanks to 3D printing technology. That kind of technology would be the true leap towards an amazing digital experience. Imagine scanning your skin and being delivered exactly the exact taint needed for your foundation as Sayuki Custom Cosmetics already offers (https://www.youtube.com/watch?v=znB_ZZpjJp4).
So, to conclude, yes, Sephora is one of the first stores to offer this kind of connected experience – and we do believe it's the way to go. However, we thought this store as it has been conceived would be more appropriate as a corner in a department store for example. Indeed, the large brands are on-site, but Sephora would enable the customer to avoid the burden of extra packages: why not be delivered at home? But from our modest experience, we were not convinced by the overall stunt that appeared to us to be more of a communication strategy than a really finalized concept. We have to admit it's hard to compete with what Burberry managed to do in its flagship in London (https://www.youtube.com/watch?v=Oh6DcY7zoYI) where the lines are more extensively blurred between the digital and real world and really seduced us. But we would love to see Sephora moving one step further towards it!