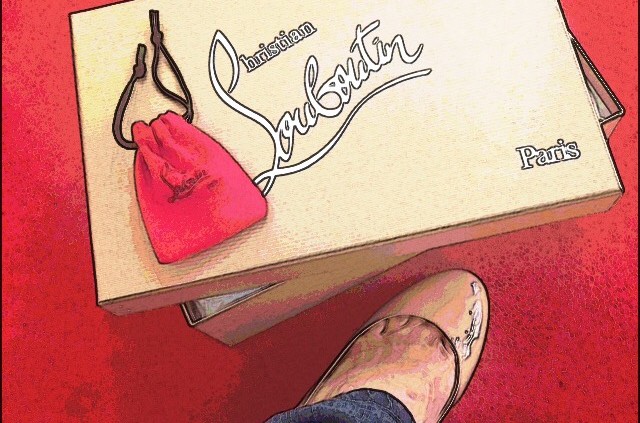 One of the most amazing things about living in Paris, is that you can have lived here for ten years and still be surprised by places you've never heard of. That's what happened to me with the Galerie Vero-Dodat. I was supposed to enter the Louboutin store in order to write this article, but as I discovered this beautiful historical spot, how could I not include some lines about it? Situated in the heart of Paris, between the Palais Royal and Les Halles and built in 1826, this type of gallerie became very popular among  wealthy people at that time. That is where they went shopping!
However, with the advent of department stores around 1850's, the popularity of the galleries began to decline. In the 1960's, Vero-Dodat was listed as a historical landmark, and today it remains a spot of elegant shops specialized in antiques, art and  fashion boutiques.
No wonder there is a true arty atmosphere, so far from the one and only little boutique almost hidden in a huge luxury shopping mall in Brasilia! I think  I just shouldn't compare…
In fact, it turns out that the Louboutin boutique has been there for over twenty years! That's what I was told by the sales assistant, when I finally entered the boutique still blown away by the galerie's charm . I opened the door and there I was, pretending to be a Brazilian tourist walking around, who coincidentally bumped into the Louboutin's headquarters (men, women and make-up boutiques, as well as offices and atelier). I have to confess that it wasn't really hard for the lovely Tatiana to plunge me into "Loubi's" magnetism experience. Yes, we are girls,  we all suffer from the Cinderella syndrom and Christian Louboutin does understand this point. High heels, red soles, amazing design: this is the perfect formula to bring out a girl's wish to feel empowered and sensual. He sure knows how to play with our feminine fantasies and his sales team are well trained to lead us to sin!!!
As she was showing me all those beautiful and different models, I was struggling with myself so as not to yield to temptation. On the other hand, I knew how this brand is way more expensive back home. Alright, this is the best excuse I could find!
Finally, the adrenaline went down when Tatiana informed me that the stiletto's I had a crush on were not available in my size. Relief!!! Time to fly home then…
But, because there's always a but, Louboutin's fascination for shoes is so contagious that I am home now, I am safe, far away from all this shoe seduction thing, nevertheless I still can't take the patent black stilettos out of my mind. "You will probably find them in our boutique rue Saint-Honoré", said Tatiana as she gave me a card with all the "Loubi"  addresses in Paris. Smart girl,  she understood I wouldn't be able to resist and I would go for them very soon. She could see it in my eyes. Because in the end, we are all Cinderellas and with or without Prince Charming, we still want to keep the shoes!