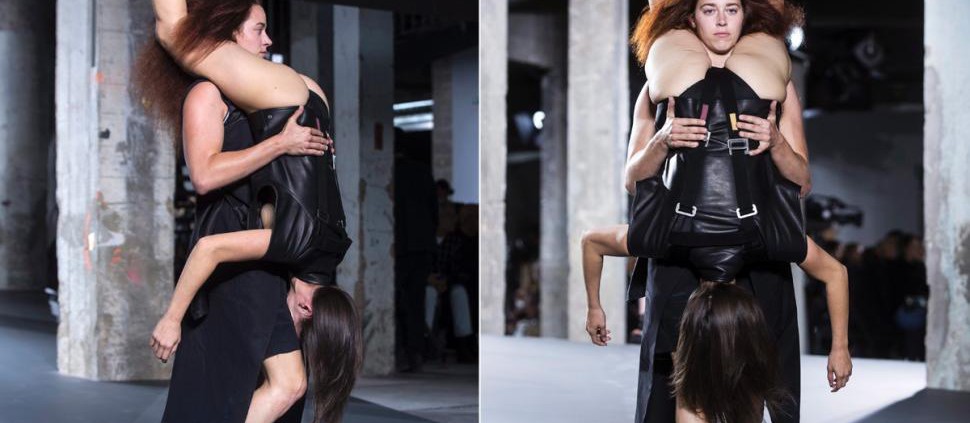 I heard about it before I saw it: some friends at school had mentioned it the day after it took place, but I just couldn't figure out what it could possibly be… That is… until I finally stumbled on a picture of the Rick Owens' "tête-bêche" show from the 2016 spring-summer fashion week in Paris in the October 2015, #109 edition of Stylist magazine. Stunned by how little information this woman carrying an unclear thing at first sight revealed about the outfit or conveyed about the designer's style, I wondered: "are today fashion shows more about being remembered for the show themselves than thanks to the clothes they display? Do you really have to go to such extremes to be noticed in the cluttered fashion week? Or is this a mere mishap from too much creativity overflow? »
This season, many designers, such as Chanel and Dior – just to name a few – clearly did appeal to the "happening" side of this sort of events – going all out in the stage setting, competing for the "must-show to attend / must-place to be seen" effect, with Karl Lagerfeld's amazing ChanelAirlines at the Grand Palais or Raf Simons' stunning Delphinium tent at the Louvre. For years, Chanel has been accustomed to making the buzz at the Paris fashion week, and this year's show was no exception. But although the Grand Palais was turned into a mock-up airport terminal inside the Grand Palais, the flow of bright and creative outfits pouring with must-have accessories alike were still at the forefront of the attention thanks to the white backgrounds and carpets.
On the other side, some other brands seemed to play on the low profil attitude at first sight. Faithful to their brand image of elegant discretion, Hermes left the floor clearly for its clothes with no other distraction for the eye. White and beige backgrounds and no decoration were the setting for Nadège Vanhee-Cybulski. No artefacts, it was all about splendid, sleek, yet trendy with this "je ne sais quoi" of style and "savoir-faire" that separates haute couture from mere fashion. But such a show could only pull it because it was supported by extreme attention to details and expertise and located moreover in a beautiful and exceptionnal setting – so it may have looked « simple », but the show was definitely "on" .
So yes, Haute-couture houses and greatest brands ARE rivalling for attention in their own way, because it's all part of the game. May it seem simple or complicated, serious or fun, 10 minutes it's all they have each season to make it happen. In such short time, artistic directors must demonstrate not only creativity, but also showcase their brand image and personality. And we must admit, not only do we enjoy it… we expect it.
All of that being said, and to end this note where I began… the picture of the Rick Owens show did trigger an itch in me to find out more about the designer and his clothes, as I must shamely admit I wasn't familiar with. I worked my way through the internet to find the actual replay of the show on YouTube, and even clicked through the on-line store. The path to a first acquisition may not have been simple in my case, yet I must admit I can definitely picture myself in this €1,971 FW15 Sphinx Cowl Stooges jacket in black leather!