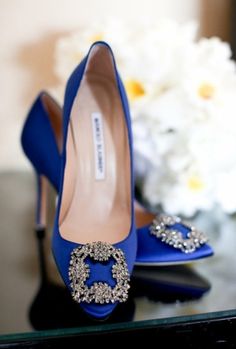 One cannot be a fan of shoes and not knowing Manolo Blahnik. One cannot be into fashion and not knowing this Spanish designer.
Moreover, last September, in order to celebrate his more than forty years of life work, Rizzoli published his monograph « Manolo Blahnik: fleeting gestures and obsessions ». So, where did Manolo took his inspiration? Why did he became so famous?
His career began with a lucky meeting. In the early Seventies, while in New York, Blahnik had the chance to meet Diana Vreeland, the editor-in-chief of US Vogue. When he presented her his portfolio of drawings, she admired his shoe sketches and suggested that he focused on designing shoes. Suddenly, back to London, he started creating shoes. At the beginning, he came up designing men's footwear, but then he turned to women's because he found that drawing men's shoes limited his imagination. In a fashion world which was mostly dominated by clunky platforms in the Seventies, he revived the trend of the stiletto heels, which has since become his recognizable signature. Since the opening of the first flagship store in New York in 1977, Manolo Blahnik has become a very famous shoe designer, and a symbol of the pure classic style for the 21st century. As he said, « a successful collection is a combination of occasional avant-garde looks for the affluent few and good solid looks that will wear forever ».
So, what is the key to his success? Every single shoe that bears his name is entirely created by him. From the drawing to the final result, Manolo is the only responsible for each step of the production. He not only draws the design, but he also handcrafts the shoes himself. Moreover, his eclectic passions are essential to his creations. In the volume above, he mentioned his sources of inspiration: from the cinema of Visconti, to the writings of Tomasi da Lampedusa, from the paintings of Velazquez and Goya to the classicism of ancient Greece and Rome, not forgetting his first inspiration: his mother. Manolo's family, hailing from Canary Islands in Spain, frequently travelled to Paris and Madrid to order clothes from his mother's favorite couturier, Cristobal Balenciaga. Besides, she learned the rudiments of crafting shoes with brocade and satin fabrics from a local Canary Islands cobbler. This explains why Manolo's shoes are made by brocade, silk and delicate buckles. As you can see, for instance, in the « Hangisi pump » which became a classic since Sarah Jessica Parker in her role of Carrie Bradshaw on « Sex and the city », wore them in the movie in a cobalt blue version for her wedding. The popularity of « Sex and the city » in the 2000s turns the shoe designer Manolo Blahnik into a celebrity.